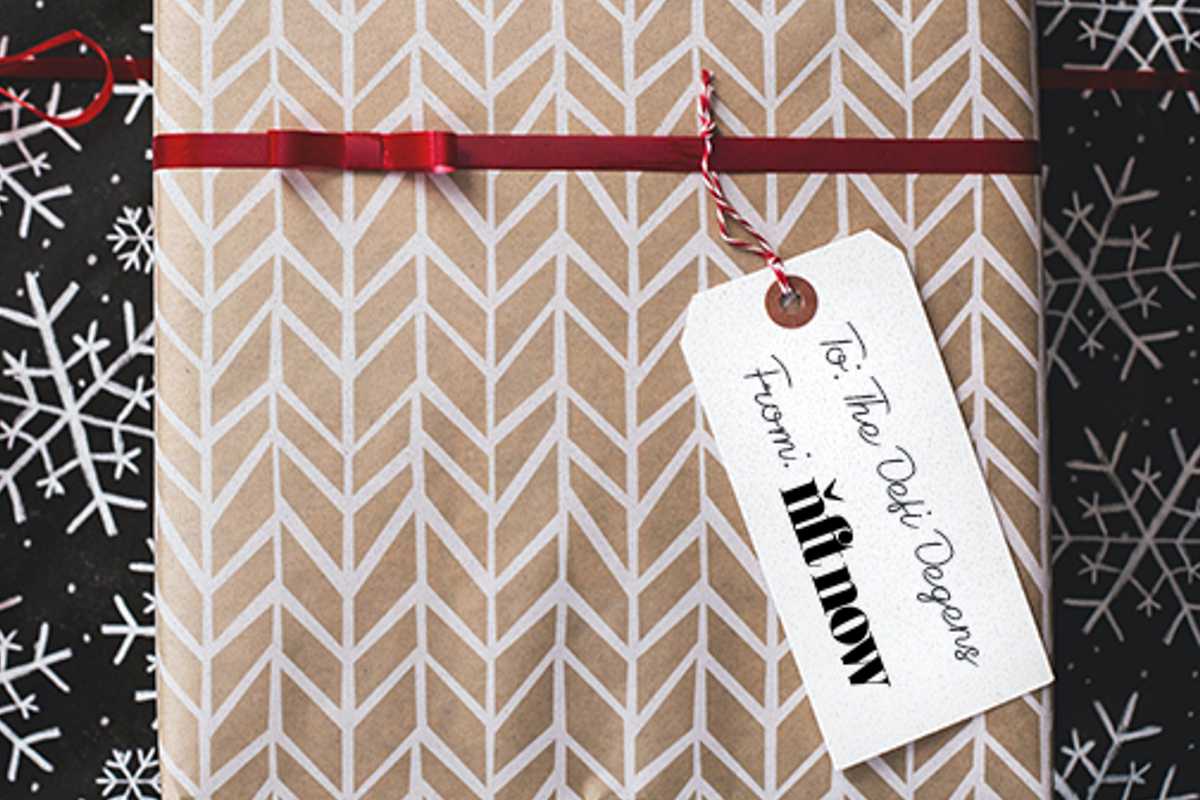 For some, the holiday season presents one of the biggest tasks of the year: picking out gifts for a range of unique loved ones. Yet, with digital ownership on the rise via NFTs, virtual gift giving may be the perfect alternative to the traditional (and sometimes stressful) ribbon and box.
For those in your life who have taken a deep dive down the non-fungible rabbit hole, we've put together a gift guide to help you surprise even the most seasoned NFT maximalist. (Or share this as a wishlist with your NFT purist friends!)
Digital Frames
Cost: 0.018 ETH ($79) and above
Infinite Objects
From NFT tourist to purist, Infinite Objects' digital frames have been all the rage at 2021 in-person NFT events. As these frames allow you to upload one digital video file (aka NFT) and edit it with the site's built-in tool, IO is perfect for displaying everything from a 1/10,000 PFP avatar to a 1/1 Beeple. You might need to get a little creative to get your hands on your loved one's NFTs to upload, or you can just get them a gift card and let them handle it. Prices for the frames start at 0.018 ETH ($79).
Tokenframe
When it comes to displaying high-resolution NFTs, it doesn't get much more sophisticated than Tokenframe. These smart frames come in a wide variety of aspect ratios and styles to fit any physical space. Although prices for these frames start at 0.177 ETH ($777), as each comes complete with an app that allows users to control the background color, artwork size, a 90° full-screen rotation and more, a Tokenframe will surely be a jaw-dropping addition under the tree.
Commemorative NFT
Cost: $0
A POAP (pronounced "poh-ap," and an acronym for "proof of attendance protocol") is a digital collectible created as an NFT. POAP NFTs are a common and popular way to commemorate an event or happening within the NFT community. As far as the holidays are concerned, there are two ways to gift a POAP. First, you can create a unique, customized and completely free POAP for the recipient: think "Proof of Celebration — The Jones' Christmas 2021" badge. Or, if creating an NFT isn't your forte, you can purchase an interesting POAP via secondaries on the POAP OpenSea page (prices vary).
Hardware Wallet
Cost: 0.013 ETH ($59) and above
If your intended recipient is a hardcore collector, give the gift of enhanced security with a hardware wallet. Most crypto and NFT trading is done via online software wallets such as MetaMask, Rainbow or even via exchanges such as Coinbase and Coinbase Wallet. But for those who are all in on NFTs and web3 tech, there exists a better way to protect art and assets for the long term: a hardware wallet. But not any old hardware wallet will do, which is why the 0.013 ETH ($59) Ledger Nano S and (on backorder) 0.027 ETH ($119) Nano X are popular choices among those within the NFT community.
NFT Creation Tools
Cost: 0.008 ETH ($34) and above
Of course, you don't have to be a collector to be an NFT purist, as many crypto artists have proved. For those who would rather create than collect, why not invest in their success with some NFT creation tools?
Digital art is the lynchpin of the NFT space. Although non-fungible tokens themselves are tradeable, in many cases, they act as only a vehicle for a piece of incredible art. There are many tools you could get an NFT purist artist, including a new drawing pad for 0.008 ETH ($34), a one-year subscription to a full suite of Adobe products for 0.082 ETH ($360), an introduction to free 3D software Blender, or a one-year Cinema 4D subscription for 0.165 ETH ($719).
Commission an NFT
Cost: At your discretion
If you have a bit of NFT knowledge, commissioning a custom 1/1 from a crypto artist is one of the best gifts you could give a purist. Now, this may be a bit more of a difficult task depending on timing, availability and cost, but your loved one will undoubtedly appreciate the gesture. Twitter and OpenSea will surely be of help in seeking out an artist to hire. Remember: You don't need to DM Beeple or Pak in hopes of a custom NFT; there are plenty of talented creators out there who would be happy to take you on as a client for somewhere in the 0.011-0.115 ETH ($50-$500) range.
Apple Watch
Cost: 0.097 ETH ($399) and up
Now, this may sound like an odd entry for this list, but displaying an NFT via Apple Watch has become a major collector flex. And although anyone can right-click and save the picture from an NFT, there are services — like Zerion — that allow Apple Watch owners to show off their NFTs in a verifiable way.
Related Content: