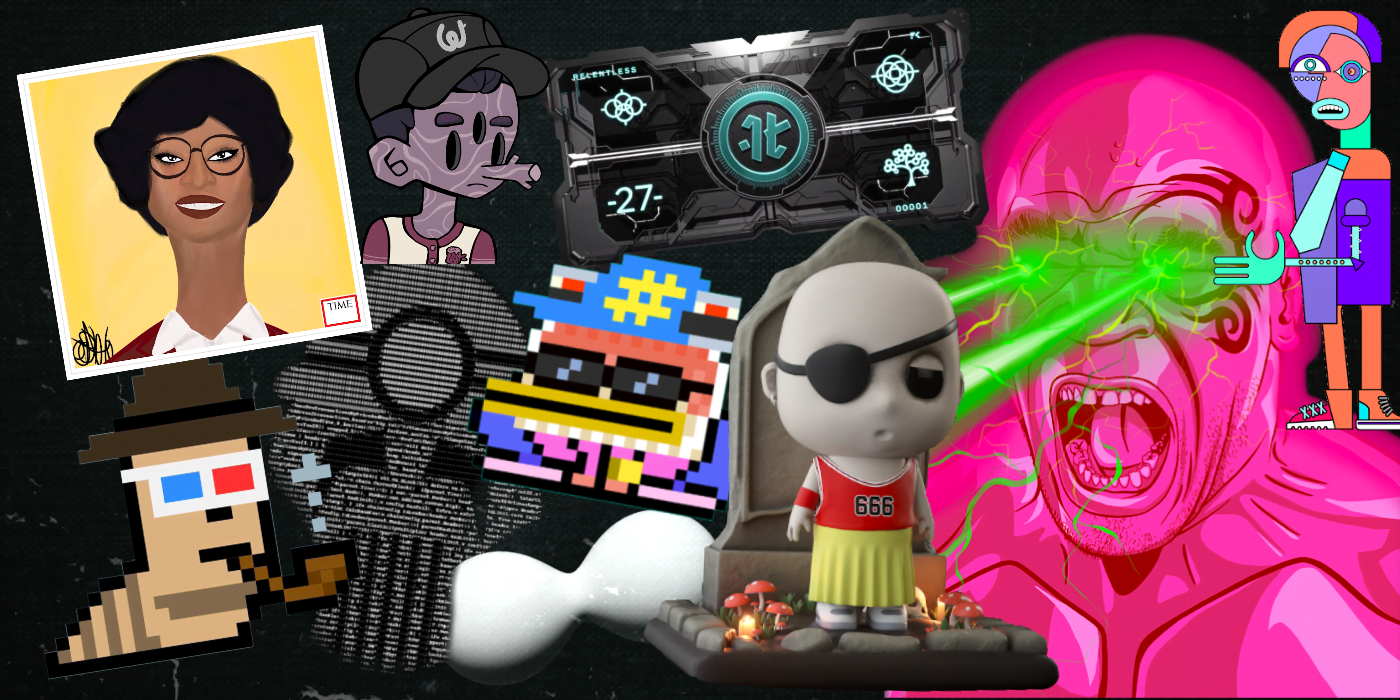 It's 2022 and the NFT market has entered another massive wave of growth. With projects mooning on a weekly basis, it's becoming increasingly difficult to secure an NFT from an influential collection before the floor reaches an unattainable price.
As BAYC, Cool Cats, Doodles and the like maintain dominance among the popular PFP project charts, we've compiled a list of projects that the average joe can ape into without breaking the bank. Here are some of the best starter projects available to collect for under $1,000.
Cost: 0.10 ETH ($260)
Founder's Key is the first large-scale NFT collection from Tom Bilyeu, CEO and co-founder of the influential Impact Theory brand. A collection totaling 15,090 NFTs, Bilyeu has said this groundbreaking collection will "give holders ground-floor access to unlock everything Impact Theory is building."
Impact Theory Founder's Keys come in three separate tiers Relentless, Heroic, and Legendary. Depending on the tier, collectors have the opportunity to gain seven levels of "access" within the Founder's Key/Impact Theory ecosystem, including direct access, discounts, partnership perks, and more.
Cost: 0.14 ETH ($370)
The Mike Tyson NFT Collection was conceived collaboratively by Cory Van Lew and the boxing legend himself. The collection features 531 pieces and marked the first time Tyson ever released his own official NFTs.
When it came time to create the art for his one-of-a-kind drop, Tyson quickly settled on collaborating with Van Lew. As one of the fastest-growing artists in the NFT space, Van Lew helped Tyson leverage his image in a way that paid homage to his legendary career.
Cost: 0.145 ETH ($380)
Larva Lads is a PFP project inspired by the ever-popular CryptoPunks. The collection consists of 10,000 NFTs that are fully on-chain and randomly generated.
Larva Lads plays off Larva Labs' iconic characters in more ways than one. Both projects were given out for free, and both embody a similar set of attributes, but one key difference is that Larva Lads are CC0 public domain, while CryptoPunks give no intellectual property, copyright, or trademark to their owners.
Cost: 0.195 ETH ($510)
MEV Army is the first large-scale PFP collection from influential artist x0r. Featuring 9,999 animated NFTs, MEV Army is billed as a regime of "shadowy super coders lurking in the Ethereum dark forest, ready to exploit transactions and extract profit."
MEV, standing for Miner Extractable Value, is part of x0r and his brother 3LAU's continuing efforts to educate NFT enthusiasts on the tech at work behind nonfungible tokens. Considering both x0r and 3LAU's prestige in the NFT space, while it's a bit of a surprise that the current project floor is so low, it allows for enthusiasts of all levels to join the MEV Army.
Cost: 0.21 ETH ($550)
Merge is a collection from NFT superstar Pak that, in 2021, set the world record for the largest-ever sale by a living artist. Billed as "a game of extinction," the entire merge collection is comprised of 312,686 "mass" NFTs.
Similar to Pak's The Fungible collection from Spring 2021, Merge was held as a multi-day sale surrounded by speculation and fanfare. Released via Nifty Gateway, mass can either be purchased at the NG Marketplace or via OpenSea,
Cost: 0.22 ETH ($570)
The Jims is a newer avatar collection from Gremplin and FingerprintsDAO. Totaling 2,048 NFTs, this collection pays homage to legendary mathematician and investor Jim Simons.
Considering Gremplin's CrypToadz has become one of the most prominent PFP projects in existence, these Jims may very well be the next best thing to owning a Toad. Having already experienced a major pump after launch, The Jims floor has, for now, been lowered significantly.
Cost: 0.25 ETH ($650)
DeadHeads is a PFP project with the goal to extend into traditional media platforms. Featuring 10,000 NFTs, the collection is paired with its own animated series that is actively being rolled out and is currently on episode 4.
By purchasing a DeadHead, collectors not only receive a unique 3D character, but retain ownership of the character's IP as well. This means that any DeadHeads collector has the option to make and sell merch featuring the likeness of their NFT or even sub-license the rights to their unique character.
Cost: 0.26 ETH ($680)
Party Degenerates is an NFT collection led by prominent collector/investor Seedphrase. Consisting of 10,000 NFTs designed in part by prominent crypto artists Blake Kathryn, Cory Van Lew, FVCKRENDER, Hackatao, and more, the project is said, by its creators, to represent "the rebellious spirit of those who choose to celebrate life, rather than merely living it."
Party Degenerates boasts an impressive list of membership benefits for collectors including digital and real-life events, exclusive merch, commercial rights, and more. The project feels to be unofficially tied to the success of Seedphrase — a top-tier crypto and NFT trader who has begun to branch out, successfully so, into the festival DJ circuit.
Cost:  0.31 ETH ($810)
Long Neckie Women of the Year is a collection from TIME's first artist in residence: 12-year-old Nyla Hayes. Comprised of 1,000 NFTs, this collection draws on the signature style that Hayes first unveiled via her own large-supply NFT project.
TIMEPieces is an NFT project and community initiative created by TIME and the ranted unlimited access to TIME.com through TIME's 100th anniversary in 2023, exclusive invites to TIME's in-person events, and access to special digital experiences. Owners of multiple pieces will also be extended additional opportunities.
Cost: 0.35 ETH ($929)
Woodies is a PFP project created by a group of seasoned and highly regarded artists and developers. The collection boasts a rich storyline and consists of 10,000 "forest creature" NFTs.
A whimsical spin on avatar projects, Woodies has seen slow, steady growth since launching in September. Featuring a vibrant community, in-depth project narrative, and a philanthropic mission, this is one of the most affordable avatar projects to join.
Related Content:
Editor's Note: At time of publication, a member of the nft now staff holds a Party Degenerate and MEV Army NFT.